Does the Realtor you found on the internet sell in the area you are looking?
Posted by Heather Feldman on Sunday, December 3, 2017 at 2:49 PM
By Heather Feldman / December 3, 2017
Comment
Does the Realtor you found on the internet really sell in the areas they say? How to find out and save yourself huge disappointment.
You are like many internet searchers out there. You do a reasonable amount of searching - you research the area, the activities available, the schools, parks, property taxes, maybe even the restaurants. You even research to find the Realtor that looks to be the best for your needs. Their website says they serve your area...but do they?
There are no internet police determining whether Realtors actually have sold real estate in the areas they claim to service.
When Realtors create their websites they choose certain cities they clain to service. There are no internet police determining whether they actually know the areas , have made any sales in the areas or for that matter have ever even visited the areas they claim to service.
I've seen it time and time again. Especially here in Park City Ut with America's Largest Ski Resort, Park City Mountain Resort. Realtors all over Utah have Park City on their list of areas they service. They want to sell that expensive home here just like the local Park City agents do. There's one problem - not only do some of these agents live 30-70+ miles away, they do not know the areas nor the neighborhood nuances. Most have never sold a home in Park City or Deer Valley and many of these Realtors do not even have access to the Park City MLS.
I wish there was a little more truth and integrity in this industry. But until there is, the onus is on you, the buyer or seller to ask the right questions.
Asking questions can help ferret out the real local Park City Ut ( or any area) Realtors from the posers.
Here are a few questions you can ask to help determine whether the Realtor you see online that looks so great is for real or just hoping you won't know the difference.
Ask them to describe the target area or city - do they have enough details? Do they impart information that is more than what you just read on the local visitor information site?
Ask the potential Realtor how close they live to the target area or city - if they live outside of the area that can be a red flag.
Where is their brokerage located? Sometimes that can be a giveaway. Most often the agents that do the most business in a target area or city work at a local brokerage, not one based in another city or geographic area.
Ask how many sales they have made in the area or city in the last 12 months and if they are able to provide some addresses for confirmation.
Tell them of your needs and ask them for specific neighborhoods that may fit. If they don't know some good neighborhood options, that should be a red flag
Ask them how long they have been selling in your target area or city. I've heard Realtors respond with " I just started selling in Park City, but I've been going there for years to ski". Selling is not the same as visiting an area.
I cringe as I write this, but you can also check Zillow for agent sold properties.
What is their website address? Not all Park City Realtors have Park City in their url, but you can bet they don't have Ogden, Logan or Salt Lake City in their names! This rule applies for other cities too. You're not going to find your best option for a good Realtor with another city highlighted in their url.
None of the above will guarantee you will find the perfect Realtor. Just hoping they help you approach the internet search for a Realtor with some newfound insights.
If you are looking for a Realtor in the greater Park City, Utah area, look no further. I live here and sell real estate here. Not Salt Lake City, not St. George, just the greater Park City area which includes Park City, Deer Valley, Kamas areas, Heber City, Midway and Wanship.
Please call me and I will be happy to answer all of the above questions!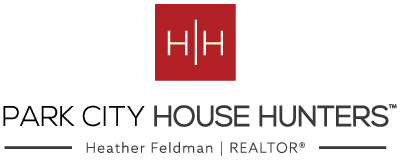 Heather Feldman
435-731-0803